Bath is a charming historical city in the county of Somerset in the South West region of England. A natural hot spring is found in the city, which has made it an attraction for centuries. In pre-Roman times, the Celts worshiped the goddess Sulis at the spring. When the Romans arrived in the 1st century CE, they built a large bath complex there, which eventually grew into a town which was named Aquae Sulis, or "the waters of Sulis." As indicated by the town's name, the sacred aspect of the spring was not lost, and worship of the goddess in the form of Sulis Minerva continued in Roman times.
Today the remains of the Roman bath complex built over the spring is one of the prime attractions of the city of Bath. The visitor's route starts in a modern building built over the site. One of the first places on the route is a ground-level pool that can be viewed from the side of it and also from a viewing area above it.
There is another similar pool that can be viewed from above. After that, visitors can see a model of what the complex used to look like before heading underground.
Below the modern structures are many excavated chambers and areas which were part of the ancient bath complex.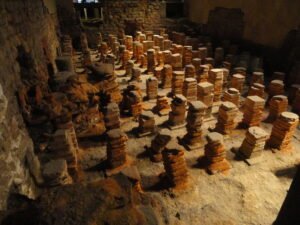 Also on display along the visitor's route are items found on the site such as stone structures (both functional and decorative) which were a part of the complex.
The most iconic item on display is the head of the bronze cult statue of the goddess Sulis Minerva, who was worshiped at the nearby temple. It was found near the bath complex in the 18th century.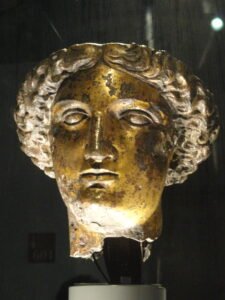 Tips for the Visitor
Bath is a popular tourist destination and is well connected to other cities (including London) by bus and train.
The entrance to the bath complex is located at the northeast corner of the building just 15 meters west of the western facade of Bath Abbey.
Ticket prices vary depending on weekdays vs. weekends, peak vs. off-peak, etc., but even a so-called "super off-peak" adult ticket on a weekday will cost you £16, although there is a 10% discount for tickets booked online as well as discounted prices for children, students, seniors, and families. Despite the high cost, it is a hugely popular attraction, so be prepared for crowds.
At the end of your visit, there is an opportunity to drink a cup of the warm natural spring water that fueled the baths there.
Bath is just west of the Wiltshire countryside, so if you are interested in exploring the archaeological sites there such as Stonehenge, Avebury, and Silbury Hill, as well as visit some picturesque villages, Bath is a good base from which to explore in that direction. There are also tours which depart from Bath that will take you to some of those places if you don't have your own transportation.
Location Map