Avebury is a village located in the county of Wiltshire in South West England, and it is a 16-km drive south of the city of Swindon. The eastern half of the modern village is the central point of a large circular ditch constructed around 2100 BCE. The circular ditch is 350 meters across and surrounds half of the village. This makes Avebury the largest henge in Britain, although the stones there are not on the same scale as those erected at the more famous Stonehenge, which is 26 km to the south.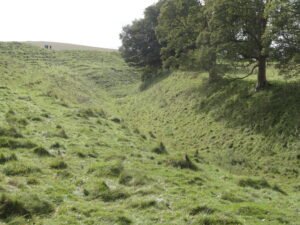 On the inside of the ditch, there was a circle of large stones positioned upright. Many of these stones can be seen there today in the fields surrounding the eastern half of the village. The position of the missing stones are marked with cement markers.
There were two "avenues" leading out of the site, which were lined with large upright stones similar to the ones circling the inside of the round ditch, one leading southwest and one southeast. The latter, West Kennet Avenue, is still visible, in part through reconstruction. It connected the stone circle at Avebury with a smaller stone circle 2.5 km away, which today is called West Kennet Sanctuary. The stones of West Kennet Avenue can be visited in a field on the side of the road leading south from the village.
Tips for the Visitor
The stones at Avebury can be found in open fields owned by the National Trust, and visitors are free to walk through the fields among the stones anytime during daylight hours. Just be careful where you step as the fields are popular places for flocks of sheep to be left to graze. There is no admission fee.
The National Trust provides paid parking to visitors, but it's free if you have an English Heritage membership sticker on your car. Alternatively, you can park for free about 1 km south of the village on the side of the road at the southern end of the gated field in which the stones of West Kennet Avenue are found.
While you're here, be sure to have a look at other nearby prehistoric sites such as Silbury Hill 1.5 km to the south, West Kennet Long Barrow 2 km to the south, and West Kennet Sanctuary 2.5 km to the southeast.
Location Map