Turin is the largest city in the Piedmont region of northwestern Italy. The name of the region indicates its position near the Alps, which form the backdrop to the city's skyline to the west, northwest, and north. As a major gateway near the mountain passes leading into northwestern Italy, Turin has been an important city for a very long time. In fact, it was the first capital of modern Italy when the country was unified in 1861.
The modern city of Turin is built on the site of the ancient city of Augusta Taurinorum, which was founded by the Romans in the first century BCE. The Roman city was located in the neighborhood west of the cathedral which is today called the Roman Quadrilateral. The street grid of the neighborhood is similar to the one which existed in Roman times.
Despite the echoes of the ancient city in the street grid of the neighborhood, not much is left of it in terms of structural remains. The best exceptions can be found in an archaeological park just a few steps north of the cathedral. The most visible Roman monument there is the pair of towers which made up the Palatine Gate, the north gate of the city. Next to the gate can be seen remnants of the old city walls.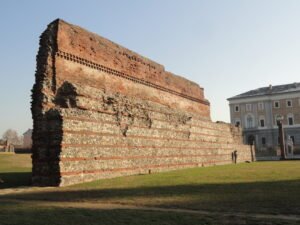 In the southern half of the park are traces of the foundations of an ancient theater. Also, between the cathedral and the archaeological park, the site of the ancient amphitheater is currently being excavated in the fenced-in courtyard in front of one of the buildings of the Royal Palace Musuem.
Tips for the Visitor
As a major city, Turin (Torino in Italian) is well connected to other cities in Italy and beyond by bus, train, and air.
The archaeological park where the Palatine Gate stands is located less than 50 meters north of the cathedral (duomo), which incidentally is where the Holy Shroud of Turin is housed, although the famous relic is not scheduled to be on display again until 2025.
Those interested in the ancient past should also not miss Turin's world-class Egyptian Museum (Museo Egizio), located half a kilometer south of the cathedral.
Location Map