Near the southernmost point of the Lycian coast in the southwest part of Turkey's province of Antalya is the popular seaside town of Kaş. The town is popular among summer travelers who are looking for a more laid-back alternative to the large resorts catering to package tourists in places closer to Antalya such as Kemer. Kaş is also said to have the best scuba diving in Turkey.
Speaking of diving, it was just 10 km southeast of Kaş that the famous 14th-century-BCE Bronze Age shipwreck known as the "Uluburun shipwreck" was discovered by a sponge diver in 1982. Its excavation between 1984 and 1994 not only was an important event in the early development of the field of underwater archaeology but also increased our understanding of life and trade in the eastern Mediterranean at that early date. The finds–as well as a full-scale replica of the shipwreck itself–are on display at the Museum of Underwater Archaeology in Bodrum (see Halicarnassus).
In ancient times, the town was called Antiphellus, and during the Hellenistic and Roman periods it served as the port of the nearby town of Phellus.
Unfortunately, not much is left of Antiphellus. However, the theater is very well preserved. Sitting in the audience and looking toward the stage, the theater-goers not only had a nice view of the show but also of the sea and the island which is now the Greek island of Kastellorizo, also known as Megisti (in the upper-right corner of the second photo).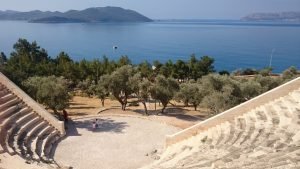 In the center of Kaş today is also a large Lycian tomb. There are also several Lycian rock tombs (like those common throughout the region) located in the face of the hills behind the town.
There are a couple of headless statues from Antiphellus on display in the lobby of the Antalya Museum.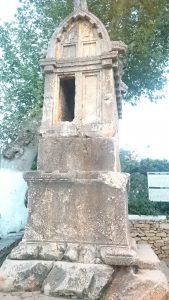 Tips for the Visitor
Kaş is a four-hour bus journey along the Lycian coast from Antalya's bus terminal, making other stops on the way, including at the turnoff to Olympos and at Demre (Myra). Coming from the opposite direction, you can also get to Kaş from the popular resort town of Fethiye, which takes a little over two hours by bus and also has several stops on the way, including at the turnoff to Patara.
You can also reach Kaş by ferry from the Greek island of Kastellorizo/Megisti, a trip which takes only 20 minutes.
Location Map