Pont du Gard is today called a pont ("bridge"), and it does serve as a bridge across the Gardon River in southern France, but its original primary purpose was to serve as part of the aqueduct which provided water to the Roman town of Nemausus (present-day Nîmes), 20 km to the southwest. The aqueduct is the same distance due west of the city of Avignon.
The aqueduct is around 2000 years old, although the precise date was not recorded. The credit for building it has gone to Emperor Augustus's general and son-in-law Marcus Agrippa, the same man who claims credit for the construction of the Pantheon in Rome by way of the famous large inscription above the entrance. However, other archaeological investigations put its construction more than half a century later.
It is a popular site for visitors because of its excellent state of preservation as well as its picturesque setting.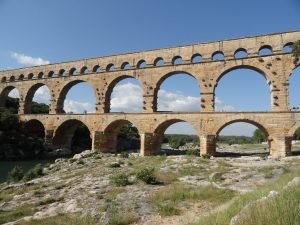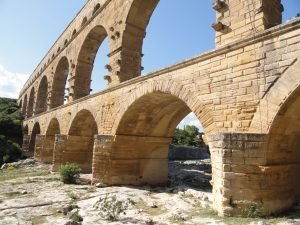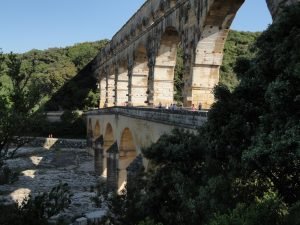 Tips for the Visitor
Pont du Gard is out in the middle of the countryside, and as far as we are aware, there is no public transportation to the site. If you don't have your own transportation, the best way to see the aqueduct is to book a tour through a tour agency in a nearby city such as Avignon. Some day trips from Avignon combine a trip to Pont du Gard with visits to other nearby tourist attractions.
Location Map