Catania is Sicily's second-largest city after Palermo. It is located in the center of the island's east coast 40 km south of Taormina and 50 km north of Syracuse. It is also just 25 km from the peak of Mt. Etna, an active volcano.
It was originally founded as the Greek colony of Catane in the 8th century BCE less than a decade after Syracuse by settlers from Chacis in Euboea. However, the city experienced a major shakeup in 474 BCE when the tyrant Hieron of Syracuse expelled the entire population of Catane–replacing them with other settlers–and changed the name of the town to Aetna, after the nearby volcano. Hieron even commissioned the Attic playwright Aeschylus (The Women of Aetna) to celebrate his "new" city.
The city became Roman during the First Punic War in the 3rd century BCE. The few ancient ruins which can be found in the sprawling metropolis date to that period. Chief among them are the ruins of the theater, partially covered by buildings connected to a museum dedicated to Catania's most famous son, the composer Vincenzo Bellini.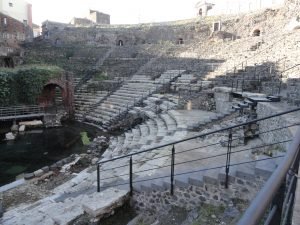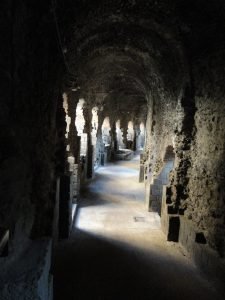 On the west side of the theater are the ruins of a smaller odeon. The two buildings are less than 10 meters apart. Unfortunately we did not have access to it on our visit.
There is also part of the amphitheater peeking out from under the buildings in the Piazza Stesicoro, a little over 500 meters northeast of the theater and odeon. It gives you a sense of how many more ancient ruins lie underneath the streets and buildings of the city.
Tips for the Visitor
As a large city, Catania is one of Sicily's main transportation hubs. It can easily be reached by bus or train from other cities and towns in Sicily. It also has one of the main two international airports on the island.
Location Map