There is a sanctuary dedicated to the local goddess Aphaia in the northeastern part of the Greek island of Aegina. It is located just 500 meters up the hill from the small port town of Ayia Marina and 9 km east of the main town of Aegina, where the island's largest archaeological site (Kolona) can be found.
The 2nd-century-CE travel writer Pausanias tells us that Aphaia was a daughter of Zeus living in Crete who was originally called Britomartis, and she jumped into a fishing net while being chased by Minos. However, her worship locally may possibly go back further than the story of Britomartis. In any case, worship of Aphaia at the hilltop sanctuary can be traced back into the Bronze Age, but the current temple that stands there dates to around 500 BCE. It is a Doric temple which was adorned with pediment sculptures depicting the goddess Athena observing scenes from the Trojan War. Some of the statuary from the pediments can be seen in the National Archaeological Museum in Athens, while those found earlier were taken to the Glyptothek in Munich.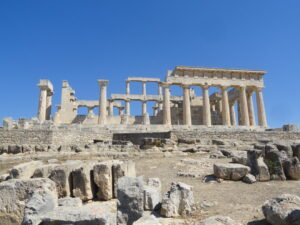 There are a few other structures on the east and southeast sides of the temple as well.
As the sanctuary is on a hilltop not far from the sea, there are some nice views of the sea as well as nearby islands and the mainland.

Tips for the Visitor
There are buses which run between the main town of Aegina on the west coast of the island and Ayia Marina on the east coast. The journey takes around half an hour, and the bus makes a stop right in front of the temple entrance on the way in and out of Ayia Marina, so it is easy to get to the temple from either of the island's two port towns.
Entrance to the site costs 6 euro. There is a small museum on site which is included in the price of admission, but it appeared to be closed at the time of our visit.
Location Map