The archaeological site known as the Tarxien Temples is located in the Maltese town of Tarxien in the southern outskirts of Malta's capital, Valletta. The site is just 500 meters east of Malta's Hypogeum.
The site is a small cluster of round temples, the oldest of which dates to 3600 BCE, which is just a few centuries younger than the oldest parts of the Hypogeum. The newest temples date to 2500 BCE. From that point on, the Tarxien Temples were used for funerary purposes and the Hypogeum ceased to be used.
A visit to the site is made by following the elevated walkways which take you through the hive of temples. As most of the temples are either about the same age as or older than the Great Pyramids of Giza, it is an incredible experience to walk through them and imagine what kind of rituals were performed in them so many millennia ago. However, many of the structures were reconstructed by archaeologists in the 1920s as well as in the 1960s.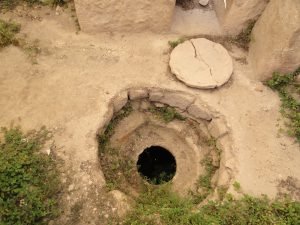 The bottom half of a statue of a figure with a similar body type as the Sleeping Woman of Malta clay figurine found nearby in the Hypogeum was found in one of the temples. It was replaced at the site with a replica, and the original statue is on display at the National Museum of Archaeology of Valletta, along with other finds from the site.
Tips for the Visitor
The Tarxien Temples are about 5 km by car, bus, or walking from central Valletta. You can take bus 81, 82, 84, or 88 from St. Publius Square, about 300 meters southwest of the city gate at the southern end of the old town of Valletta. All four buses go to the Neolitici bus stop, which is two blocks south of the site.
If you plan to visit the Hypogeum (and you definitely should), it makes sense to visit Tarxien the same day as the two sites are only 500 meters apart. Be sure to book your ticket to the Hypogeum weeks (maybe even months) before your planned visit.
Tickets to Tarxien do not need to be booked in advance as there are no restrictions on numbers of visitors per day. The site is open every day from 9am to 5pm and full-priced tickets cost 6 euro.
Location Map