The archaeological site of Sikyon is located on a plateau just under 5 km from the Gulf of Corinth on the northern coast of the Peloponnese. The ancient city that stood there was 17 km northwest of ancient Corinth and 20 km due north of ancient Nemea.
Sikyon had a long history going far enough back for the city to be included in some of the Greek myths. In the Archaic, Classical, and Hellenistic periods, Sikyon was an important center of art and the hometown of Lysippos, one of Classical Greece's most admired sculptors.
However, it was in 303 BCE — a couple of decades after the end of the Classical period (that is, 20 years into the Hellenistic period) — that the city was moved to the site where its remains can currently be visited. The older site of Sikyon was somewhere in the plain between the plateau and the coast, but it has not yet been identified.
Although the city was not established at the site until the end of the 4th century BCE, the plateau was not completely new to the people of Sikyon as the foundations of the temple located in the agora date back to the 6th century.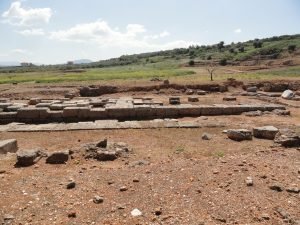 Just southwest of the temple is the bouleuterion, where the city council would meet, and an adjacent stoa.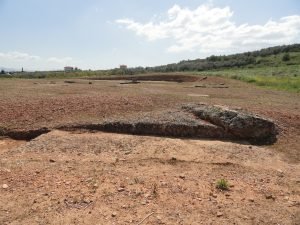 West of the bouleuterion is a gymnasium which was built on a slope on two levels. The lower level is older and was built in the Hellenistic period while the upper terrace was added in the Roman period.
The city had an exceptionally large theater. It was closed for restoration at the time of our visit, but it is still visible from outside the fence.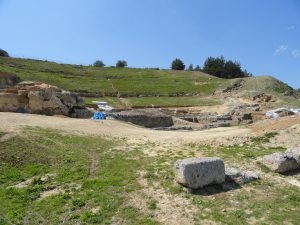 Between the gymnasium and the theater, there appear to be some relatively recent pits revealing structures that have not yet been fully excavated.
If you walk a bit further up the road from the theater, you will come to a large basin. You can see from its shape that this was the site of the city's stadium, although there are few visible stones left from the structure which once stood there.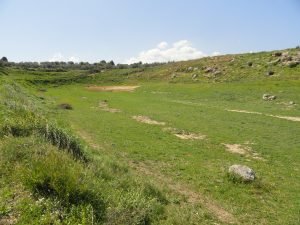 Across the road from the rockpiles is a small but splendid museum which houses many artifacts found at the site. The museum was once a Roman bathhouse.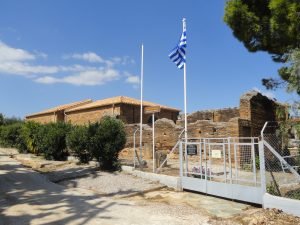 Tips for the Visitor
The site is a 5.5-km drive or hike from the train station in the town of Kiato, which is the last stop on a train line that begins in Piraeus and also stops at Athens Station. From Athens Station, the train journey to Kiato takes 1 hour and 20 minutes.
Although most archaeological sites and museums in Greece are closed on Mondays, Sikyon is closed on Tuesdays instead. Admission to the site and museum costs 2 euro. The basin where the stadium used to be is not fenced in along with the rest of the site.
Location Map