Sami is a port town on the coast of the Greek island of Kefalonia. Located on the south end of the large bay on the island's east coast, the town enjoys a nice view of the sea and the bay, the opposite shore of the bay, as well as the rolling hills that make up the island of Ithaca, which is only 8 km to the northeast.
In antiquity, Sami was the center of one of the four ancient city-states which made up the island. The acropolis was situated on a hill overlooking the town from the south. Other ancient structures can be found nearer to the town. Just behind Ruzica Beach to the northeast of the town, there appear to be the remains of defensive fortifications. Also, just 30 meters west of the fortifications, there is an excavation area in which what appears to have been a basilica is being unearthed.
Between those remains and the town, there is an even larger area of partially excavated structures along the coastal road. This is the main archaeological site of Sami.
The most complete ancient structures can be found on the southeastern edge of town just south of the main harbor. On one of the backstreets there, you will find the ruins of a Roman bathhouse.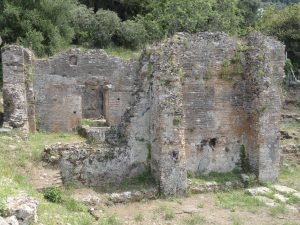 Tips for the Visitor
Sami is one of the main transportation hubs of Kefalonia. As it is located on the east side of the island, it has ferry traffic to and from the Greek mainland as well as Ithaca. There are also buses from Sami to many other parts of the island.
Some of the ruins are fenced in and some are not. In either case, it is easy to view the excavated areas and there are no tickets to be bought. In the case of the Roman baths, the site appears to be designed for visitors and there appears to be a ticket booth there, but it looks abandoned.
Location Map