Ioulida is the main town of the island of Kea. In antiquity, the island was called Keos, and Ioulida (then called Ioulis) was one of the four city-states that made up the island. It was the only one of the four whose center was not on the coast.
The ancient city was centered on an acropolis, which was situated on a hill on which the northern end of the modern town is built. Today the hill is called the Kastro after the medieval fortifications which were later added there, although some traces of the ancient walls can still be seen in some places.
Apart from some traces of fortifications, the only real visible trace of ancient Ioulis that can be seen today is a large Archaic statue of a lion, which has been dated to the late 7th or early 6th century BCE. Dubbed the Lion of Kea, it is located in a valley about 600 meters east of where the acropolis once stood.
Some traces of the ancient city have turned up here and there and turned into the local archaeological museum, which puts some of them on display. Some examples of finds are an Ionic capital, a part of a column, and a votive relief stele featuring the goddess Athena dating to the early 5th century BCE.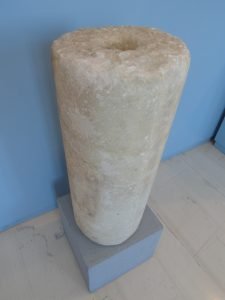 Tips for the Visitor
Ioulida is a 5-km drive from the ferry terminal in Korissia on the northwestern coast of the island, which has several ferries per day to and from the port town of Lavrio on the mainland of Attica. The ferry takes a little over an hour and costs 12.40 euro and more if you have a car. If you don't have a car, and if you're coming from Athens, you'll need to get one of the hourly buses to Lavrio from the KTEL bus terminal a couple blocks east of the Victoria metro stop in Athens. The bus ride takes around two hours and costs 5.30 euro. You'll pay 7 or 8 euro to get a taxi from Korissia to Ioulida.
The Lion of Kea can be visited by following a 20-minute walk along the path leading east from the town along the ridge overlooking the valley. A bit after a sharp left turn, there is a sign indicating another path leading down into the valley where the statue can be found. The site is free to visit.
The museum was until recently only open on Fridays, but thankfully it now operates on a regular small-museum schedule (6 days a week until lunchtime). Entry costs 2 euro.
Location Map