Kos is the name of a Greek island in the Dodecanese as well as the name of the island's main town, which is located at the eastern end of the island. The town is just 7 km from the Turkish coast and 20 km southwest of the Turkish city of Bodrum (Halicarnassus).
Within the town are several archaeological sites with remnants of the ancient town, which stood in the same place as the modern town. The largest archaeological area is the agora, which is a couple of blocks from the harbor.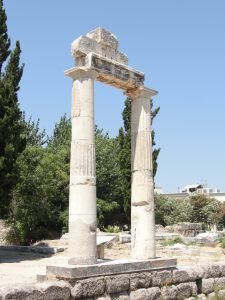 A few blocks south of the agora are the ruins of an altar of Dionysus and a restored Roman villa, the interior of which we were not able to see on our visit.
There are more ruins in the western part of town, including the ruins of the gymnasium and the Roman odeon.
Just north of the agora is a square, in the middle of which is a plane tree which is said be the spot where Kos's most famous son used to teach his students under a similar tree. Hippocrates today is known as "the Father of Medicine," and the Hippocratic Oath is named after him.
Tips for the Visitor
The town of Kos is the main transportation hub for the island and can be reached by sea or air.
Location Map