The ancient city of Sardis is located 10 km west of the town of Salihli in the Turkish province of Manisa. It was the capital of the ancient kingdom of Lydia, and thus was the capital of Lydia's famously wealthy King Croesus in the 6th century BCE. Two centuries later, Alexander the Great took the city without a fight right after his victory against the Persians at the nearby Granicus River. It continued to be a major city throughout ancient times.
Approaching the site by foot, you are likely to come across the ruins of walls and other structures which pepper the surrounding countryside.
The main ruins are just 1 km south of the village of Sart. It is a cluster of mostly late Roman buildings dominated by the gymnasium.
There is also an adjacent street with the remains of a row of shops and other structures.
One of the most impressive buildings, especially for its mosaic-covered floor, is the synagogue. The presence there of such a grand synagogue as well as the fact that the Lydian name for the city was Sfard lends credence to the theory that Sardis is the city referred to in the single-chapter Book of Obadiah in the Hebrew Bible as Sepharad, which that text identified as being the place in which "the captivity of Jerusalem" was found.
Following the road leading south for 1.5 km brings you to the ruins of the temple of Artemis.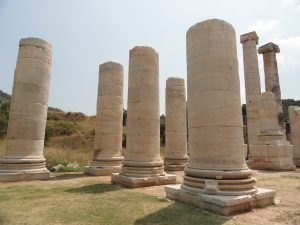 Just behind the temple is a small ancient church. It was one of the Seven Churches of Asia (also known as the Seven Churches of the Apocalypse) referred to in the Book of Revelation in the New Testament of the Bible.
Tips for the Visitor
Coming from Izmir (or any other long-distance point of origin) by bus, you would need to go to Salihli, and then take a minibus to the village of Sart, and get off at the main ruins before the bus turns north to Sart. You can take the same minibus from there back to Salihli.

Location Map