Goritsa is a hill at the southeastern end of the Greek port city of Volos. The name has also been given to the archaeological ruins of an ancient town which stood on the hill, believed to have been built and fortified by the Macedonians in the fourth century BCE when they went about the task of securing strategic positions in their newly conquered Thessalian territories, a project which would lead to the founding of Demetrias in the next century 3 km to the west, across the mouth of the greater harbor area. The site is indeed strategic, occupying a hilltop at the foot of Mt. Pelion overlooking the entrance to the harbor.
The archaeological site was named after the hill it sits on because the name of the ancient town is uncertain. It has been suggested that it was Orminion, a town described by the ancient geographer Strabo as being a short distance east of Iolkos, which was on the road that joined Orminion with Demetrias, the city Orminion was incorporated into shortly after Demetrias was founded.
There are some rockpiles found at roughly the center of the hill. Among these is a stone-lined drainage channel, part of which goes underground in the direction of a larger group of ruins. Archaeologists have determined that the city was laid out on a grid pattern, and the ruins of many houses and other structures have been found in other parts of the hill as well.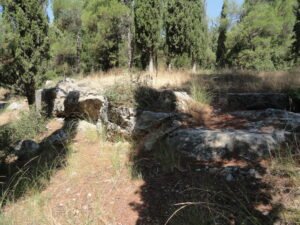 The most photogenic ruins are found a little over half a kilometer to the northeast of the drainage channel. These are the bases of the walls, towers, and gate at the northeast edge of the city.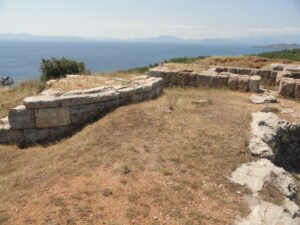 The view from here is partially obstructed by the highest parts of the hill to the west, but there are views of the Bay of Volos (visible in some of the pictures above) as well as the northeast part of the city of Volos (below left). To the northeast, one can see the southwest slopes of Mount Pelion (below right, in the background), one of the homelands of the mythical centaurs — half-human, half-horse creatures who sometimes came into conflict with some of the heroes of Greek mythology.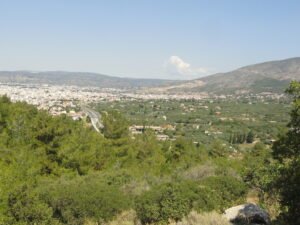 At the base of the hill right beside the modern highway just before it leads into the tunnel under the hill, 350 meters northwest of the fortifications, are the remains of a necropolis. Here there are dozens of rectangular graves cut directly into the rock.
Tips for the Visitor
The ruins on Goritsa Hill are accessible at any time by way of the hiking trails which crisscross the hill. There is also a road which leads up to the church at the highest point of the hill. Both the trails and the road start their way up the hill right behind the National Stadium of Volos. The necropolis at the base of the north end of the hill is another access point to the hiking trails.
Location Map